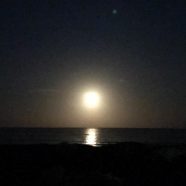 Dear Modern Wisdom friends,
A new beginning is here for us, and what an amazing moon to bless it!
We have been preparing ourselves for this big change in our lives for the past 5 years or more. For us, it took time and quite a journey to get here. As a couple, we did it one step at a time and we waited for each other to be ready for this big move. During the path, there were some days we felt strong and full of courage, and others when fear got bigger and we just had to keep breathing. There were times where we had to go back and start all over again. It was OK, it was part of the process.
After quite some time searching, we've now been blessed with a very special encounter. In August this year we met Narda and her wonderful Modern Wisdom shop. It was love at first sight, and everything from there was so smooth that we literally just went with the flow. Our encounter was meant to be, and everything just feels right! Narda has been helping us as a true friend and she is making all the efforts to help us settle in our new hometown.
Finding Modern Wisdom for us is of great significance. The name itself really resonates with us, as we feel that we are blessed to live in a modern era where access to information and ease of travel makes it relatively easy to discover the ancient Wisdom of different cultures, and also to experience and feel the many similarities between them. We feel the shop's purpose is to bring together all this diversity of Wisdom to create a space which nourishes our Mind, Body and Soul! We hope to continue Narda's great work in bringing all this together and to be able to keep the wonderful positive energy and great vibe of the shop!
We are very happy to be here and grateful for this new chapter in our life. One of the aspects we love of Modern Wisdom is that it has really become a beautiful community of friends who share similar beliefs. We have started to meet some of you at the shop and we hope to meet all of you very soon. Narda will certainly continue to be a close presence in Modern Wisdom and a great friend and partner to us! She will continue to be with us a couple of days per week in the shop, as she starts to focus more of her time and energy on her new beginning as an author, and also spends more time with her beautiful family.
Many blessings to all,
Myra and Rafael